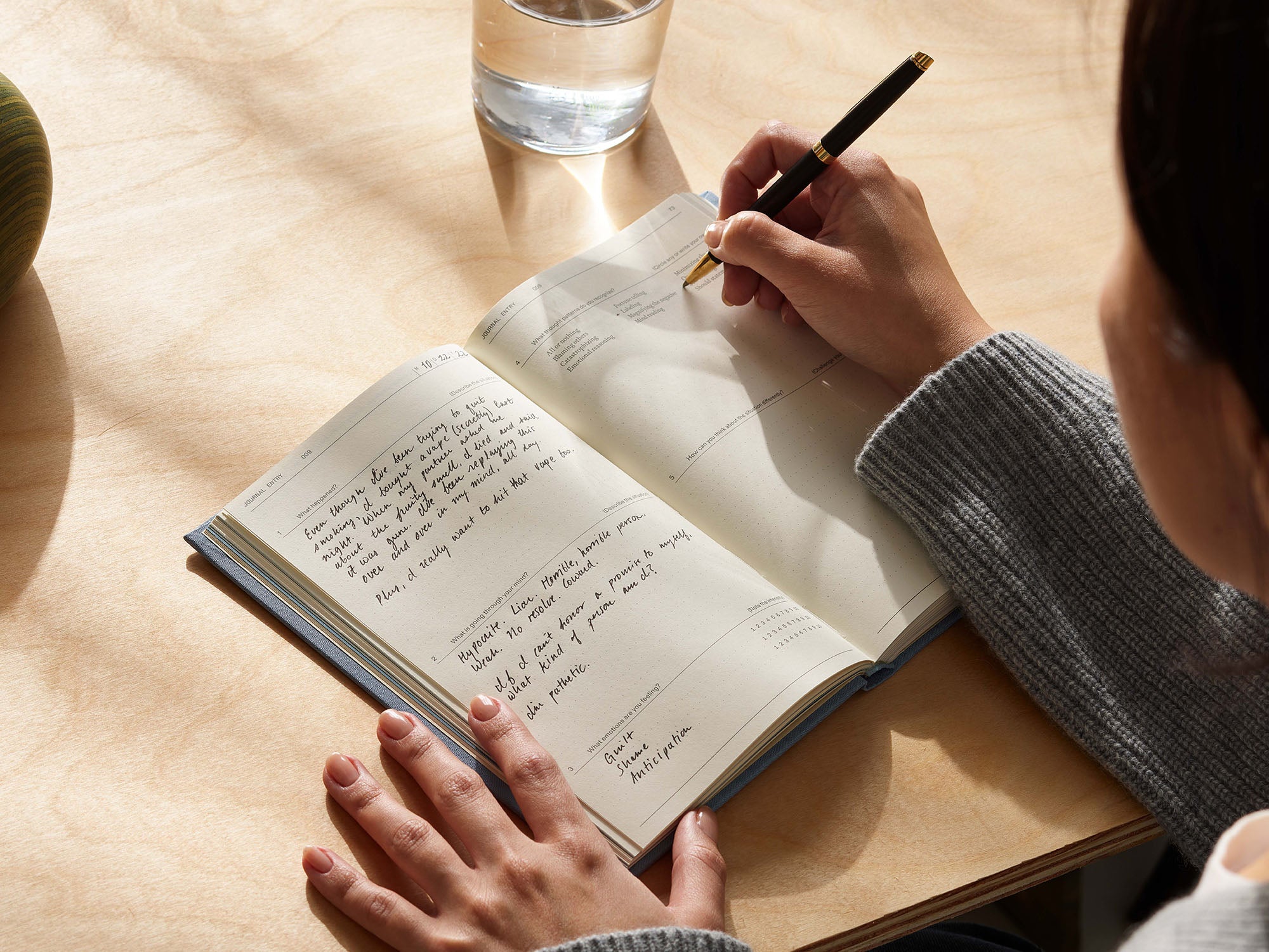 Expert Tips: Getting Started with The Anti-Anxiety Notebook
By Dr. Diana Hu, Clinical Advisor
You're looking to get started with The Anti-Anxiety Notebook. Now what?
We worked with one of our clinical advisors—Dr. Diana Hu—to share a few tips on how to get started and some practices to get the most out of the journaling experience. 
Tip 1: Try a journal entry or two—when you're calm. 
The Anti-Anxiety Notebook journal entries are designed for in-the-moment use; even still, preparation can go a long way in setting you up for success when you encounter stressful situations. Fill out one or two journal entries when you're feeling calm, so you can get a sense of the prompts and how to fill it out when you're feeling anxious (and less calm).
Tip 2: Keep the notebook within reach.
When you're just starting out—and a little less familiar with the journaling prompts—it can be helpful to keep the notebook easily accessible so you can turn to the notebook when you catch your thoughts spiraling. As you put in more practice with the thought log, you might even be able to run through the prompts mentally to de-escalate in-the-moment. 
Tip 3: Familiarize yourself with the Cognitive Distortions in the Appendix.
As you read through the different Cognitive Distortions in the back of the notebook, it can be helpful for you to come up with your own examples. Use your own life as your source of inspiration: when have you experienced All-or-Nothing Thinking? When have you experienced Self-Blaming? Having personal examples can help you understand the concepts one degree deeper. 
Tip 4: Take some time to notice patterns. 
Because of a variety of factors (our upbringing, our lived experiences, and our personality), we often tend to have "go-to patterns" that our minds default to. When you're able to identify these "go-to patterns," you will be better equipped to catch the thoughts even before they've spun out of control. After completing a few weeks of entries, take a look at whether there are repeating types of situations, thoughts, or cognitive distortions, and note down what your go-to patterns might be.

Questions?
Our experts are here to help. Submit your questions to askanexpert@therapynotebooks.com and we'll do our best to answer them.
This article is not therapy or a replacement for therapy with a licensed professional. It is designed to provide information in regard to the subject matter covered. It is not engaged in rendering psychological, financial, legal, or other professional services. If expert assistance or counseling is needed, seek the services of a competent professional.