Save 20%
Turn restless nights into restful ones with sustainable change. Using long-term tools and strategies for better sleep, this notebook guides you through Cognitive Behavioral Therapy for Insomnia (CBT-I), the most effective evidence-based program for a variety of sleep issues.
6 weeks of sleep journaling to improve your sleep quality and quantity
42 sleep log entries to gain insight into your sleep patterns
Daily tips and reminders from expert therapists
An analog tool to combat the effects of an "always on" world
This notebook is filled with 128 pages of 75 gsm cream paper for a smooth & fluid writing experience. 
Hard bound with a flat lay binding, this notebook is lighter than our hardcover Anti-Anxiety Notebook, but filled with the same high-quality, evidence-based content you know and trust. 
(LxWxH): 8.5" x 5.5" x 0.38", 0.51 lb.
The Anti-Insomnia Notebook
WHO THIS HELPS
Do you find yourself tossing and turning at night? Have you ever felt anxious because you couldn't sleep? The Anti-Insomnia Notebook helps you build healthy sleep habits that last a lifetime: whether that's tending to your sleep hygiene, managing time in bed, and more.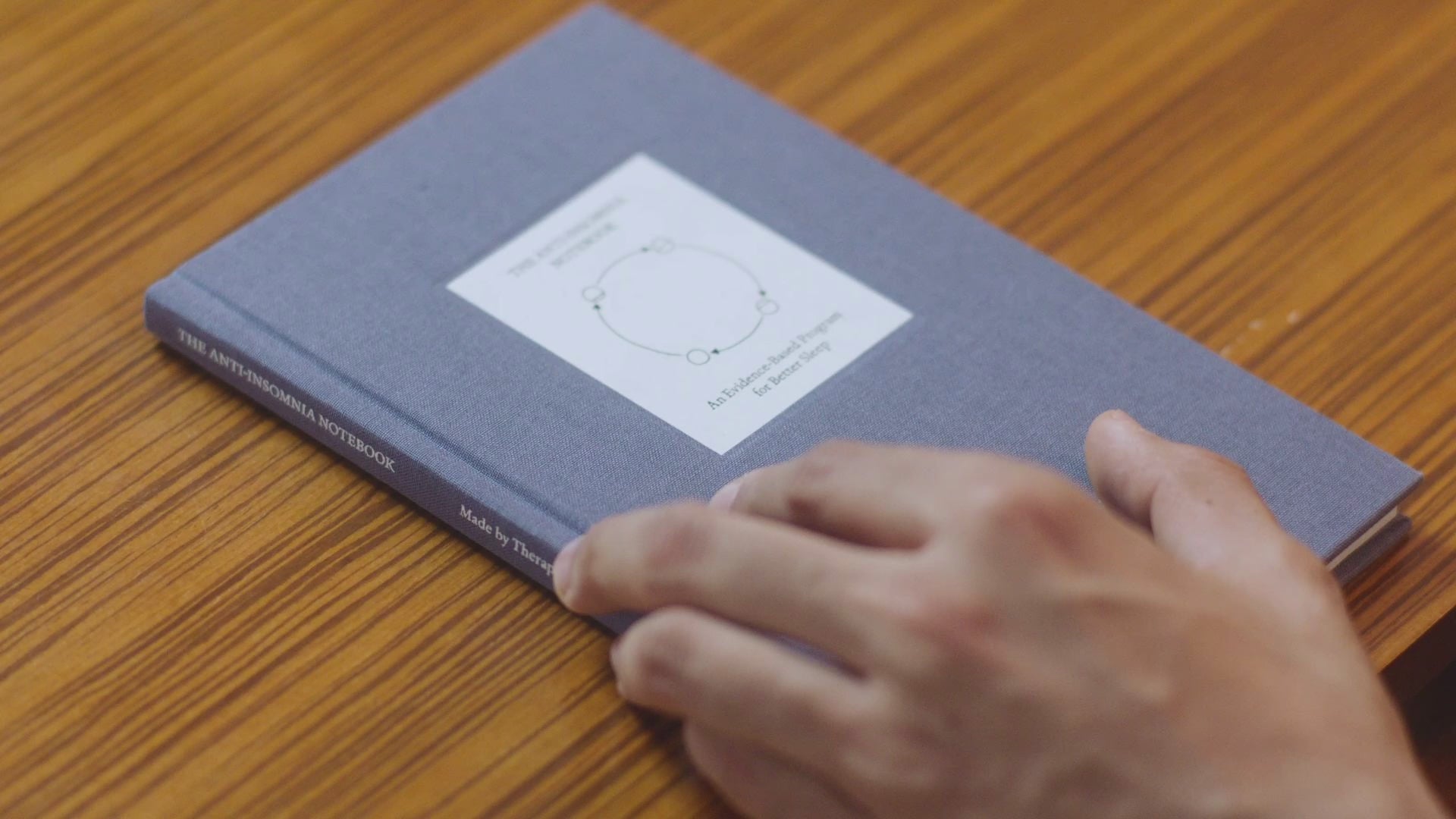 WATCH: A look into The Anti-Insomnia Notebook (0:45)
Break the cycle of
bad sleep.
Sleep is one of the most important foundations for overall health and well-being. And one that too many of us take for granted. This workbook is beneficial for anyone wanting to maximize the quality of their rest, insomnia or not.
Feel ready for rest when your head hits the pillow.
Take on the most important part of your day by investing in practices for getting the most out of rest. You'll face each day with more clarity and focus, with a long-term solution that doesn't come from a bottle, but from within.
Frequently Asked Questions
CUSTOMER REVIEWS
At first glance seems deceptively simple but after working through it I realized it has powerful tools! The information is also explained in a way I could actually make sense of and use easily. I bought this because I found it overwhelming trying to sift through all the results of my Google searches on insomnia, sleep problems, sleep issues. It was exhausting- literally! This notebook actually takes all that "evidence-based" info and gives you what you need. I highly recommend it.
— Erika K.
I have bought all of the products sold by this wonderful company, and this workbook by far has made the biggest difference, I have struggled with insomnia most of my life, and the workbook has truly helped me in a way that no medication could, so thank you so much for creating such a helpful workbook!
— Kayla D.
Working completely remotely has made it more challenging to stick to a good sleep routine. I ordered this workbook to help get my sleep back on track. It's been amazing so far! The logs help you to recognize where issues may be arising and helps make staying on a schedule fun by filling it out daily in the morning. Definitely recommend if you feel like you need a tool to understand and realign your sleep patterns!
— Sam K.