Save 20%
Navigating depression is a personal journey and involves learning what works for you. This field guide is designed to help you explore different evidence-based tools for depression that address your motivation, internal dialogue, and relationships—the areas of life that most impact our ability to thrive.
5 sections covering different evidence-based tools effective for managing depression
Over 80 journal entries with structured exercises to put those tools to practice
Research-based introduction to depression and how to treat it
An appendix with additional resources to learn more about the tools that work.
This notebook is filled with 272 pages of 75 gsm cream paper for a smooth & fluid writing experience. 
Hardcover, with a thread-sewn, flat-lay binding. Linen cover material. Heat-sealed ribbon. 
(LxWxH): 8.5" x 5.5" x 0.63", 0.84 lb.
The Field Guide for Depression
WHO THIS HELPS
You might feel overwhelmed. Or experience a weighted sadness that's hard to define. If you don't like how you're feeling, The Field Guide for Depression is a starting point for helping to improve motivation, mood, and build more meaningful relationships.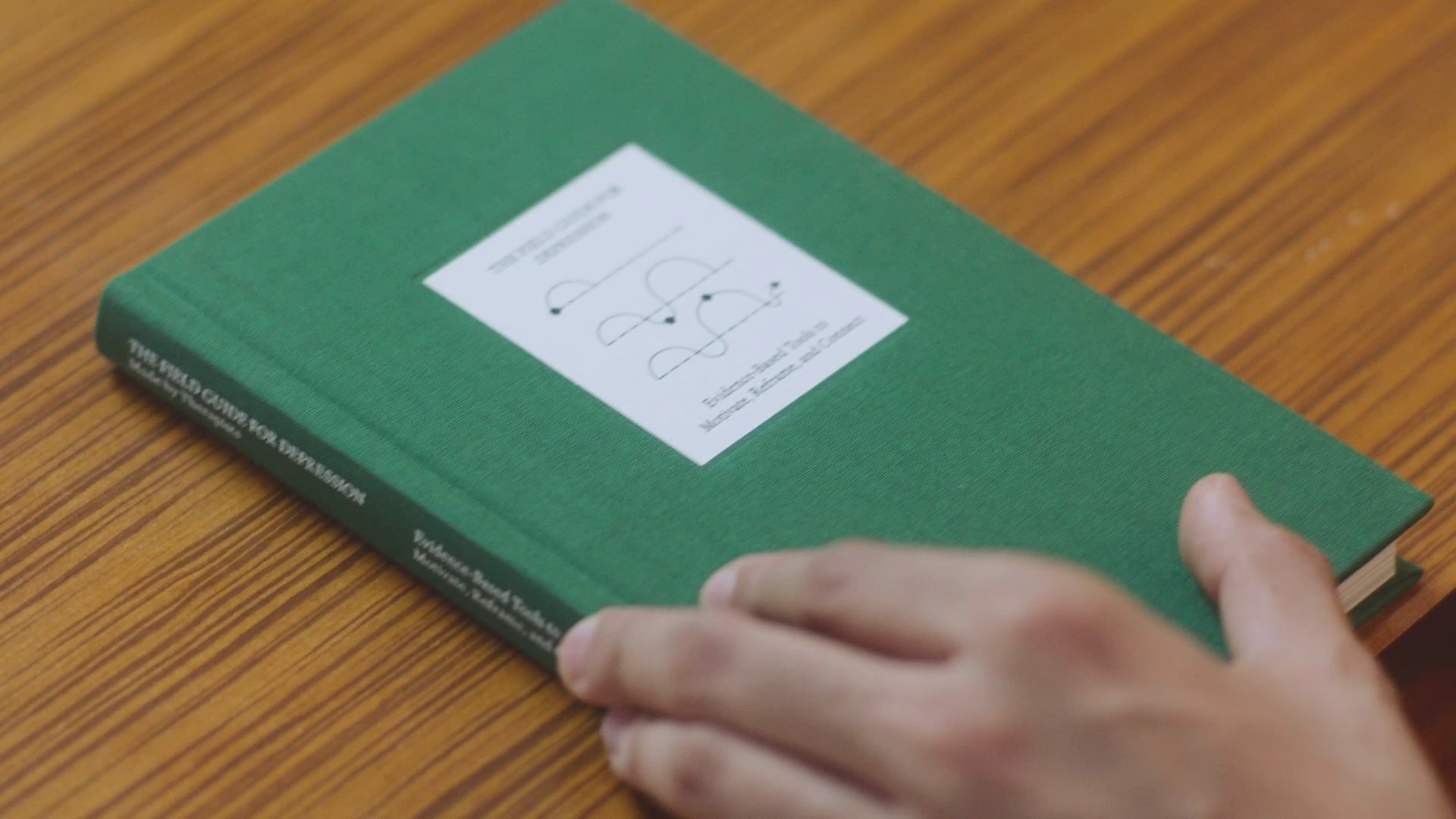 WATCH: A look into The Field Guide for Depression (0:52)
Working from the inside out ...
Did you know that your internal dialogue is crucial to how you feel? Change how you speak to yourself and work on changing your outlook from the inside-out. With The Field Guide for Depression, you'll find tools to break the negative cycle of bad self-talk and learn to speak to yourself differently—and to relate to yourself in a more positive way.
... and outside in.
By using tools that lead to external change, you'll uncover what interests you, your values system, and motivations that fuel the purpose and meaning in your life.
Frequently Asked Questions
SUCCESS STORIES
ACT and DBT have been instrumental to how I live my life, and as someone with persistent depression, this notebook is a necessary tool for rediscovering how to process my life.
— Ashley L.
This guided book is great if you are trying to manage moments of depression on your own or as a companion of you're being treated by a therapist. The guided prompts help structure your thoughts and see them on paper, rather than spiraling in your own head.
— Natali T.
I found that working through the exercises was extremely helpful in reframing several issues that were getting me upset and helping me to focus more on what I enjoy, rather than on those things that are upsetting.
— Anne E.
Even just a few pages of reading gives an idea or tool that helps to slowly lift me out of it.
— Michelle W.