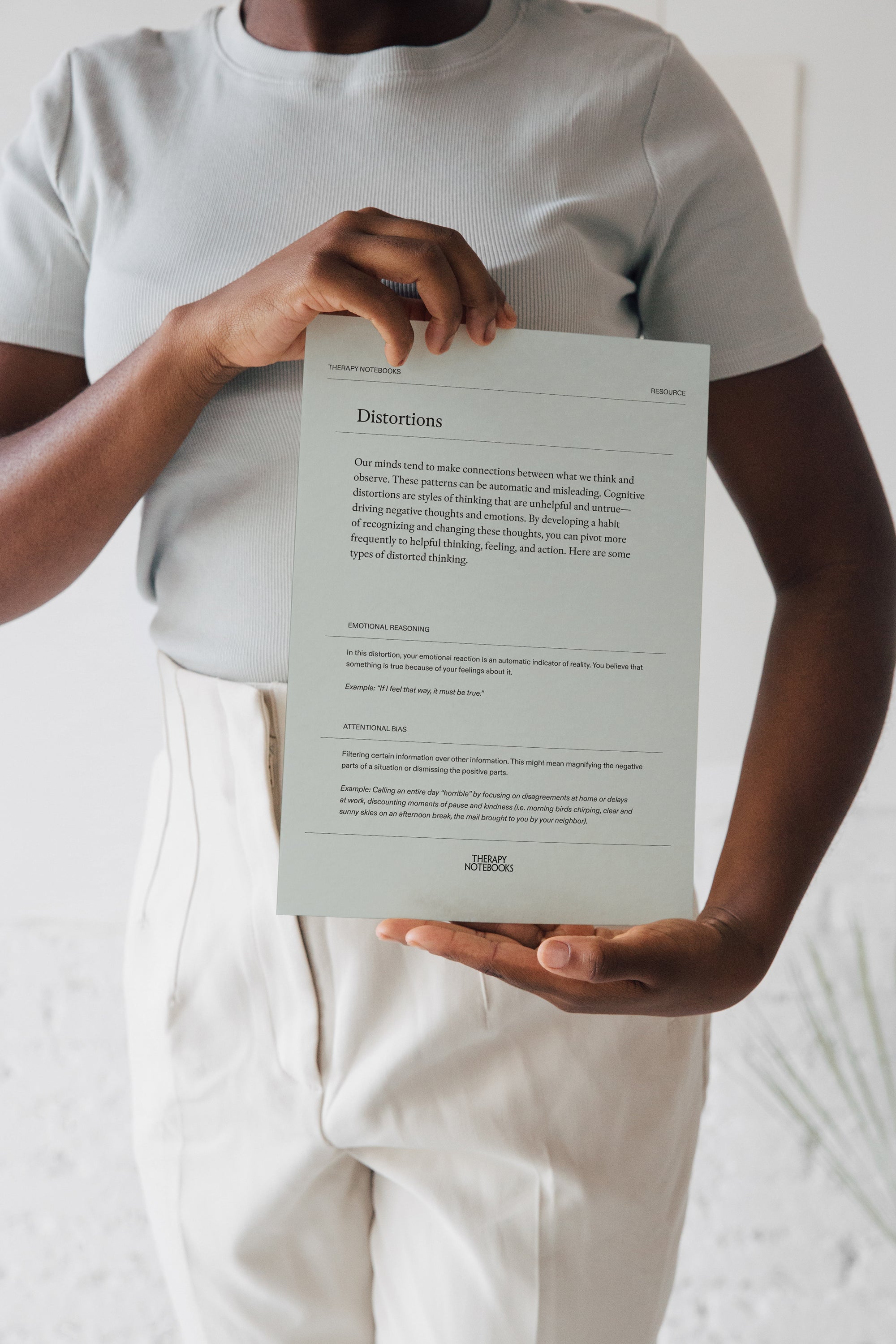 Expert Tips: Supplemental Resources for The Field Guide for Depression
By the Therapy Notebooks Team
In addition to your weekly writing sessions with The Field Guide for Depression, we've included two additional resources for you to continuing understanding your thoughts and feelings, so you can better address how to improve your mood and motivation.

Resource 1: Defusion
What It Is:
A guided activity that empowers you to treat thoughts as what they are: thoughts. Based on Acceptance and Commitment Therapy, defusion is especially helpful for when we're experiencing heightened difficult emotions.
How to Use:
Take 10-20 minutes to complete the exercises whenever you're experiencing difficult thoughts. Use a blank notebook or sheet of paper to help structure and process your thoughts.
Resource 2: Cognitive Distortions
What It Is:
A reference sheet for additional Cognitive Distortions that are commonly experienced. Cognitive distortions are unhelpful and untrue thinking patterns that exacerbate our feelings of anxiety, depression, and more. Identifying and correcting them is one way to curb them.
How to Use:
When you're feeling calm, take a few minutes to read over the Cognitive Distortions. Think about a time when you may have experienced these unhelpful thought patterns recently. What would an alternative be to those thoughts?
Questions?
Our experts are here to help. Submit your questions to askanexpert@therapynotebooks.com and we'll do our best to answer them.
This article is not therapy or a replacement for therapy with a licensed professional. It is designed to provide information in regard to the subject matter covered. It is not engaged in rendering psychological, financial, legal, or other professional services. If expert assistance or counseling is needed, seek the services of a competent professional.