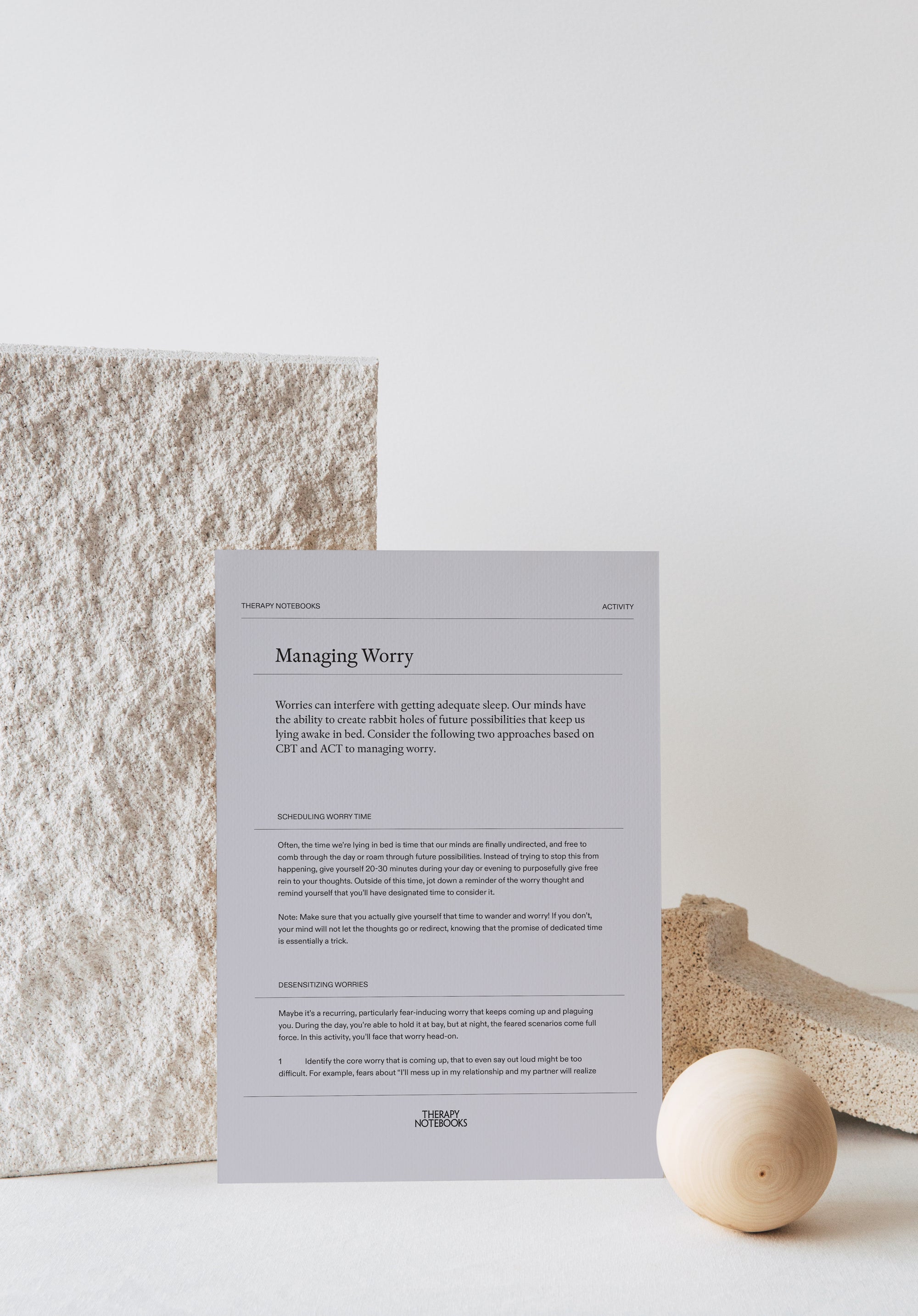 Expert Tips: Additional Resources for The Anti-Insomnia Notebook
By the Therapy Notebooks Team
In addition to your daily use of The Anti-Insomnia Notebook, we've provided two resources to help you take care of your mental sleep hygiene and share the program with your friends and family to keep you accountable as you go through Cognitive Behavioral Therapy for Insomnia.

Resource 1: Scheduling Worry
What It Is:
A worksheet that guides you through some exercises and prompts to help you process and approach your worries at a scheduled time. It's effective because it helps you create distance from worrisome thoughts while also validating them by committing to future action to address those issues.
How to Use:
Schedule 30-minutes (but no more than that!) during your day or early evening, with adequate time ahead of your bedtime, to go through the exercise. You can use a notebook to jot down your responses.
Resource 2: CBT-I Explained
What It Is:
A quick reference sheet that summarizes Cognitive Behavioral Therapy for Insomnia—the program in The Anti-Insomnia Notebook.
How to Use:
Print out the reference sheet and put it next to your bedside—it can act as a helpful daily reminder to your program commitment. You can also share the resource to friends and family so they can keep you accountable.
Questions?
Our experts are here to help. Submit your questions to askanexpert@therapynotebooks.com and we'll do our best to answer them.
This article is not therapy or a replacement for therapy with a licensed professional. It is designed to provide information in regard to the subject matter covered. It is not engaged in rendering psychological, financial, legal, or other professional services. If expert assistance or counseling is needed, seek the services of a competent professional.