Save 20%
Reduce anxiety, manage stress, and become more aware of your thought patterns with this easy-to-use, guided notebook. Utilizing Cognitive Behavioral Therapy, a rigorously-tested and widely-used treatment, you'll develop the skills to identify, challenge, and change unhelpful thought patterns so you can feel better.

40 Guided Journal Entries for in-the-moment support
Structured exercises proven to help reduce anxiety and track patterns
5 check-ins covering different therapy tools for anxiety
100+ Notes and Tips From Therapists
This notebook is filled with 272 pages of 75 gsm cream paper for a smooth & fluid writing experience. 
Hardcover, with a thread-sewn, flat-lay binding. Linen cover material. Heat-sealed ribbon. 
(LxWxH): 8.5" x 5.5" x 0.63", 0.84 lb.
The Anti-Anxiety Notebook
WHO THIS HELPS
Have you ever found yourself feeling tense or unable to relax, but you're not sure why? Or maybe you're experiencing dread that you can't quite pinpoint? The Anti-Anxiety Notebook is a playbook for immediately addressing what's causing your stress—giving you a sense of greater control over your emotions.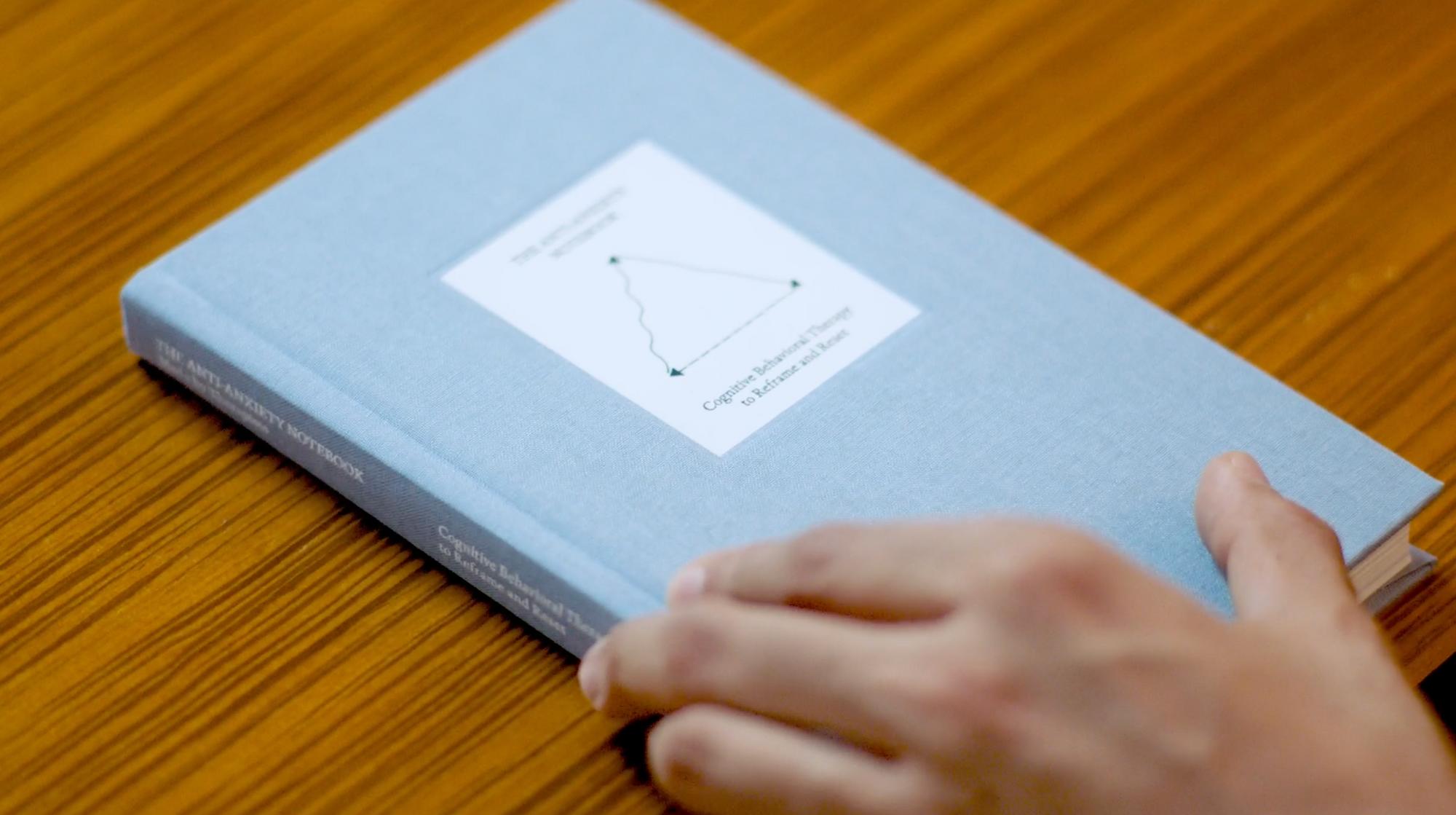 WATCH: A look into The Anti-Anxiety Notebook (0:46)
A way through anxiety that's go-at-your-own-speed.
Learn how to manage fear and worry and get back into the driver's seat when it comes to tackling these challenging emotions. The practices in our notebook help you reframe your thoughts into something much more manageable, accelerating your ability to identify patterns and proactively address issues as they come up.
See what life is like on the other side of your anxiety
The Anti-Anxiety Notebook is grounded in Cognitive Behavioral Therapy, the best-researched and most effective form of psychotherapy. Meaning you'll get help in-the-moment with a practice that also builds your resilience to future anxiety. Resulting in change you can feel, and progress that's worth the time you put in.
Frequently Asked Questions
SUCCESS STORIES
After about a couple of weeks using this book, I can confidently say that this has helped me a lot. I feel so much more at peace now than when I was constantly ruminating, catastrophizing, and emotional reasoning prior to this notebook.
— Jessica C.
I have reached for this book countless times and will continue to do so. It has helped me immensely to take a step back, access my situation, and calm down.
— Kayla C.
I have been using the notebook for a few months, and have found it extremely helpful in learning to recognize negative thought patterns and emotional reasoning in real time, so that I can reframe my thoughts and work through the rough spots quicker.
— Stacey S.
When using this notebook I can clearly see what's happening and diffuse the situation. The questions they ask really detangle the anxiety and diminishes it very quickly.
— Rebekeh R.