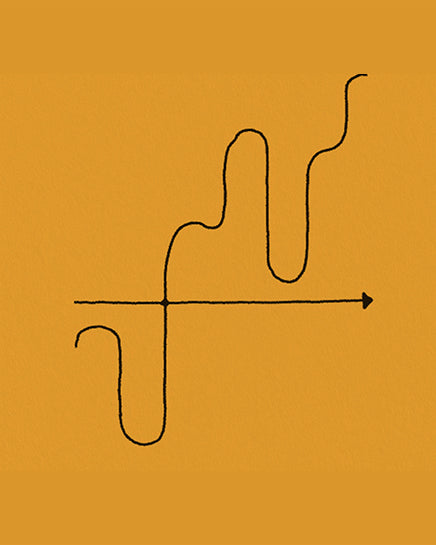 Evidence-based.
Clinically-proven.
Made by experts.
Backed by research.


Created for everyday people.
You've probably seen one or more of these phrases—if not all of them—on our site or in our books. In an age where consumer marketing is flooded with vague references of "science backing" and people grow more skeptical of products' claims to effectiveness, we take using these phrases seriously. At Therapy Notebooks, we strongly believe that how we develop our products—with care, rigor, and collaboration—directly impacts the quality and effectiveness of your experience of them. And these phrases are simply a way to communicate that commitment to more people concisely. 

Today, I'll walk you through the lifecycle of a Therapy Notebooks product, so you can have more insight into how each of these phrases—whether "evidence-based" or "created for everyday people"—comes to life through our notebooks. 
Every product begins with a real, human need. 
We speak to our customers on a regular basis, and in these 15-minute chats, we ask two questions: How would you describe your mental health journey? and What are some challenges that we can help you solve? We also pay attention to research publications, industry trends, and statistics that inform us about the mental health challenges people face everyday. These are the places where a product first take shape. 
The Therapy Journal, for example, was borne out of conversations we'd have with friends and customers who would complain about the very real challenge of knowing what to do in therapy sessions. Therapy is an intimidating experience for many, and it can feel daunting to know what to talk about. Simple as it sounds, one of the biggest difficulties people shared was how easy it is to draw a blank when their therapist asks them: "How are you doing?" At the same time, the COVID-19 pandemic sharply increased the demand for therapy, and we knew that more people than ever before were looking to mental health services for support—and we wanted to make that experience more seamless for more people. 

Once we've identified a few themes, we turn to our experts. 
We ask our clinical and research contributors and advisors about what they're hearing on the field. Our licensed therapists, clinical psychologists, and psychiatrists witness the very real, intimate, and practical struggles of their clients, and expand on the themes we've gathered through conversation. In addition to validating the themes we've gathered from customers and research trends, they also provide insight into what would be most helpful to enhance and support their clients' goals. 
Once we've honed in on the specific mental health need, we find a "lead expert" to help us bring the product to life. These "leads" shape the product end-to-end:  from sourcing the research, content, and exercises; to identifying the most fitting (and evidence-based) therapy modalities and tools; to writing the "Letter From a Therapist" and "Notes From a Therapist" that you find in our books. It's incredible to witness how interdisciplinary these experts are: bringing their client experience and wisdom, training in various modalities, and research background to create a truly multifaceted product experience.
Each "lead" is also supported by and consults with a group of clinical advisors and a team of editing clinicians to review the concepts behind the book before moving forward with writing and editing. There is a wide spectrum of what experts believe is important, so we value the collaborative process of making sure we're thinking through the important tradeoffs of exactly what content we cover (and don't cover), what questions in a journal entry we include (or not include), and what features in the book are necessary (or not). 
Then, we make sure that our products stand the test of reality. 
Once we've developed a product outline, journal entries, and educational overviews, we go back to our customers to get their feedback. We typically run a few rounds of user testing, where individuals use our content in their day-to-day lives for up to a week. Then, we identify ways we can improve the experience:

What additional features do we need to add, to make this experience more helpful?

How can we make our content more inclusive, compassionate, and empowering?
How helpful was the journal entry? What changes can we make to deliver a more intuitive experience? 
We work with an editorial lead, product lead, creative designer and our clinical and research leads to iterate on the content until we've created something our customers and fellow experts love. 
Finally, we conduct one (or maybe ten) final, thorough review of the notebook.
We ask our clinical advisors and outside experts to read through the content and make necessary adjustments: whether that's requesting additional resources to be included, making changes in word choice, or reordering content in a way that reads more easily. 
Then, it's off to design and production—with our experts involved every step of the way.
We sample a variety of linen cloth materials to select a cover color that both represents the topic of the notebook and intentionally fits with our collection. Then, we work with designers to capture the essence of the notebook with a small, black and white illustration and to bring the written content to life through thoughtful design. Everything that you see, feel, and write on is vetted by team members and design collaborators to create the most compelling journaling experience. 

We hope that learning about our product development process gives you confidence and excitement for what you'll find in each guided notebook. If you're interested, you can learn more about our experts and collaborators here. And if you're a writer or expert—whether a clinician or researcher—we'd love to collaborate with you. Share your interest by completing this form, and we'll be in touch if there's a potential fit. 

Joanna is the Product Lead at Therapy Notebooks. She is responsible for developing the content, design, and production of each guided notebook. If you're interested in learning more, or have feedback to help us do things better, email her at joanna@therapynotebooks.com. You can also set up 15-minutes to chat here.