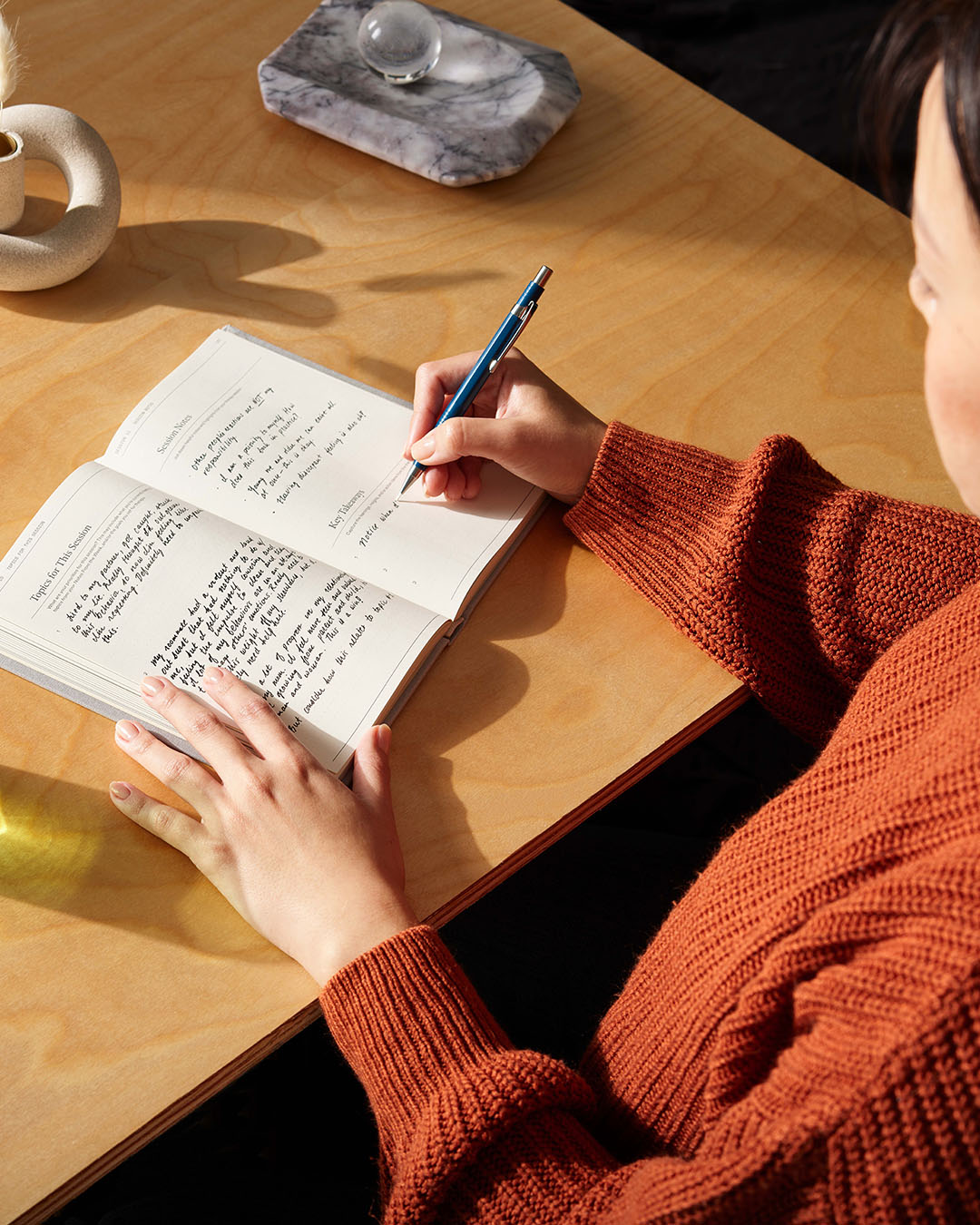 Expert Tips: Getting Started with The Therapy Journal
By Dr. Diana Hu, Clinical Advisor
You've purchased The Therapy Journal. Now what? 
We worked with one of our clinical advisors—Dr. Diana Hu—to share a few tips on how to get started and some practices to get the most out of your session entries. 
Tip 1: Let your therapist know about The Therapy Journal. 
Don't be afraid to let your therapist know that you've started using the journal as part of your sessions. They will appreciate your commitment to collaborating with them in your progress, and will likely weave the journal into your sessions. 
Tip 2: Plan your pre-session ritual.
Each session entry includes a "pre-session check-in." We've included this intentionally so you can pause, gather yourself, and switch gears from the busy-ness of the day, so you feel ready to start the session. Try using the "pre-session check-in" section to create a small ritual to help you transition into your session, no matter what was going on beforehand.
Tip 3: Prepare your session space.
If you're meeting with your therapist virtually, make sure you're in a private and comfortable space, and mute any notifications or distractions that might come up. It can also be helpful to close all of your active windows so you can clear out your "mental space" for your session. 
Tip 4: Set your intentions ahead of therapy.
If purchasing The Therapy Journal is your first step in considering therapy, we encourage you to use this Intention Setting exercise to plan ahead and make the most of your therapy experience.
Tip 5: Make the session entry work for you. 
You can use the "Topics for This Session" section flexibly. Some people like to use it as a way to jot them down throughout the week, as priorities pop up; others like to schedule 10-15 minutes before a session to take stock of the week and prioritize what they'd like to focus on. There is no one right way to do it—ultimately, it's whatever process that makes it easier for you to capture those most important insights in one place.
Questions?
Our experts are here to help. Submit your questions to askanexpert@therapynotebooks.com and we'll do our best to answer them.
This article is not therapy or a replacement for therapy with a licensed professional. It is designed to provide information in regard to the subject matter covered. It is not engaged in rendering psychological, financial, legal, or other professional services. If expert assistance or counseling is needed, seek the services of a competent professional.