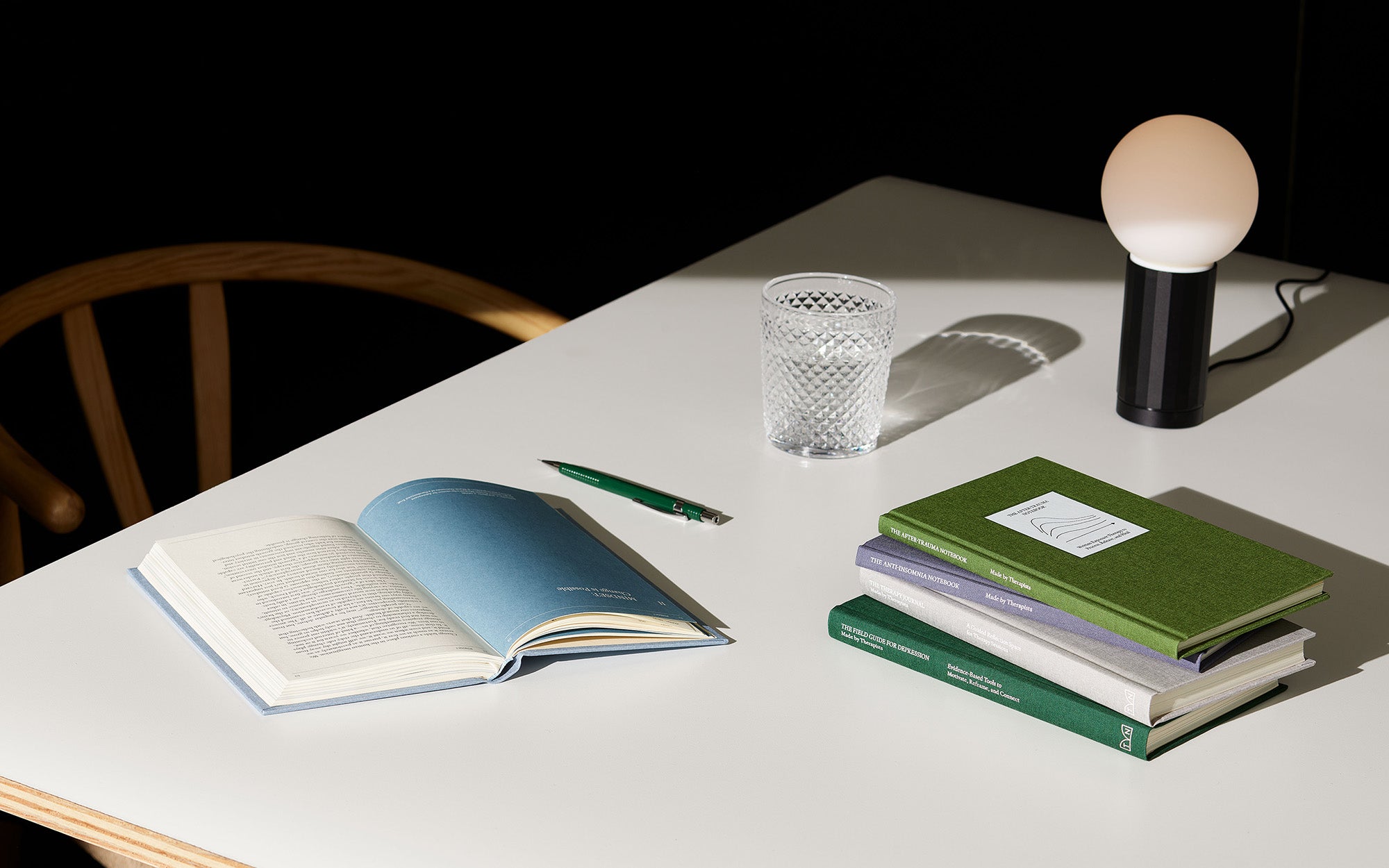 Meet the new Therapy Notebooks
By Varshil Patel, Founder & CEO
When we first started Therapy Notebooks, we had the idea that a guided notebook would be a powerful medium for accessing and practicing effective evidence-based mental health tools. The Anti-Anxiety Notebook—our first guided notebook—came to life as a result. Our initial prototypes were not-so-great, but we kept trying, listening, and improving. Based on feedback from customers and clinicians, it became more and more clear that we were building something that could really help people.

Over the past almost three years, we have grown in ways that are incredibly exciting: 200,000+ customers, 100+ retail partners, 5 products and counting. We have also grown in ways that are less visible but equally (if not more) important: greater understanding of the people and needs we serve, more conviction for why we exist, and a long-term view on who we want to become. This clarity of purpose has deepened our commitment to the mission of making mental health tools more accessible. When we started working on our rebrand, the intention was to express this mission with greater clarity and commitment.

Today, we're so excited to share the new Therapy Notebooks with the world. Everything from our products to our website to our emails has been thoughtfully redesigned. This transformation in how we show up in the world is a clearer, more confident expression of our vision. With this rebrand, we want the world—you—to know that Therapy Notebooks are mental health tools for your everyday needs. Peeling back the layers of what this means will help you understand who we are, where we're headed, and how you can be a part of it.

Our commitment to evidence-based mental health tools. 
The breadth of available evidence-based mental health tools is astounding. We collectively still have much to learn about the human mind but researchers and clinicians have developed validated tools for how to regulate our emotions, how to build healthier habits, how to change our internal and external communication patterns, and much more. At Therapy Notebooks, we talk about the idea of mental health literacy: How can we help anyone learn, understand, and use the most effective mental health tools? We imagine a world where everyone is empowered with tools to more skillfully approach the challenges of being human.
Global efforts in research and innovation have revolutionized the world several times over through the invention and adoption of effective tools; the latest example of this is how software and devices have changed how we live and work. But with our emotional and mental health, there has not been a similar level of investment in making sure easy-to-use, effective tools are available at schools, universities, workplaces, etc. And as much as it is wonderful to see many more people working directly with therapists, we need tools that can reach a global population instead of just those who can access a therapist.
As Dr. Tom Insel, the former director of the National Institute of Mental Health puts it: "If one of the inconvenient truths about mental health care in the United States is that we have a fragmented and chaotic system, one of the inconspicuous truths is that we have effective treatments. Yet we have not translated this knowledge into an effect on public health. Closing the gap between what we know and what we do is the most urgent and tractable problem we face in the world of mental health care. This is the challenge and the opportunity for public health to bend the curve for mental health." 

Our commitment to serving your everyday needs. 
We believe that a key challenge in bridging the accessibility gap is presenting evidence-based mental health tools in a way that relates to our everyday lives. This requires us to listen carefully to what people actually need and then think creatively about how to translate tools into products that people will actually use. As an example, reading about Cognitive Behavioral Therapy (CBT) and trying to put it into practice can be difficult without the proper context and guidance. It can feel more like applying a clinical formula in a vacuum, rather than a practical tool that can be used (and mastered) in the context of real life situations. 
This real life context was what informed how and why we created an analog writing experience—people were too overwhelmed by their digital devices for us to add to their litany of apps—and why we decided to create "The Anti-Anxiety Notebook" instead of "The Cognitive Behavioral Therapy Notebook"—knowing when and how to use CBT (in the context of anxiety) is often much more helpful than learning about something in theory.

As you take a look around at our redesigned products and website, you will see that we've maintained the clinical integrity of our products while making them more approachable through illustrations on our cover design, additional context on our website, and real-life customer stories. Also, as we work on new products, we want to serve the full range of emotional and mental needs rather than focusing solely on clinical conditions. The new Therapy Notebooks sits at this exciting intersection where research and clinical expertise meets real life.
Our commitment to the long-term. 

By transforming how Therapy Notebooks appears in the world, we are laying a new and enduring foundation for our mission. And we hope this new foundation invites collaboration. Reaching the world with evidence-based mental health tools will require partnerships with researchers, therapists, retailers, schools, governments, employers, and insurers. Consider this announcement as our way of saying: We're here to stay, we're committed to the work, and we're ready to help.