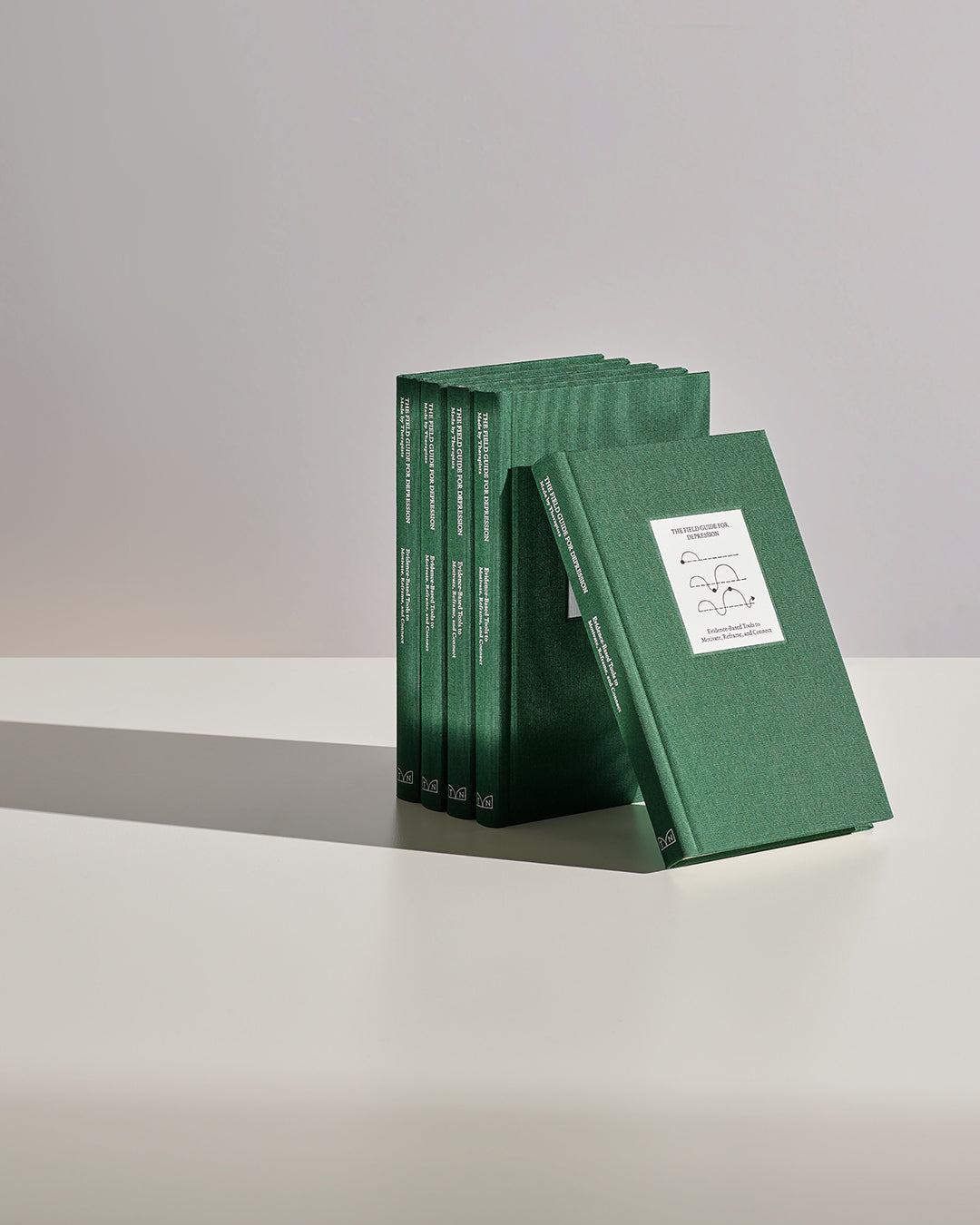 Expert Tips: Dr. Brandon Tong on Approaching the 5 Tools in The Field Guide for Depression
By the Therapy Notebooks Team
The Field Guide for Depression includes five evidence-based tools with journal entries for you to put them into practice. We've included an additional sample entry per tool to give you more inspiration and support as you get started with them. Dr. Brandon Tong provides additional insight and perspective on how you can incorporate their best practices into your journaling experience.
Suggested Use:
Take a few minutes to read the sample entries, ponder them, and reflect on how you might use the journal entry in similar ways.


Identifying Values & Committed Action
Acceptance and Commitment Therapy
Dr. Brandon Tong's Review:
Notice how this entry notes both the "negative" and "positive" behaviors that might be driven by a value. In your own entries, try to note down how your value guides what you'll do and not do as a result.
Dr. Brandon Tong's Recommendation:
It's often helpful to not just try to avoid a behavior, but to work towards something that realizes what you care about—like your values. These two examples very clearly show how an anxious behavior in relationships can actually be curbed by replacing it with a more value-driven behavior.
Reframing
Growth Mindset
Dr. Brandon Tong's Recommendation:
This entry does a great job at showing self-compassion, while also clearly identifying where there can be improvement. In your entry, try to balance "problem-solving" with a gracious interpretation of the situation. It can be easy to be overly critical of ourselves.
Activity Log
Behavioral Activation
Dr. Brandon Tong's Recommendation:
A little preparation goes a long way. Oftentimes, the smallest hiccups can derail our best laid plans. These entries do a great job noting very specific tactics to overcome the barriers of getting what they want to do — done. Try applying that same level of specificity to your plans.
The Thought Log
Cognitive Behavioral Therapy
Dr. Brandon Tong's Recommendation:
While it's easy to think that challenging and reframing thoughts may seem like "being at war with yourself," these two examples show that a big part of reframing thoughts is to normalize aspects of your experience, and come to a more balanced view of what happened. Try taking that perspective as you use this journal entry.
DEAR MAN
Dialectical Behavior Therapy
Dr. Brandon Tong's Recommendation:
Oftentimes, not having a clear understanding of someone's intent can cause all kinds of misunderstanding. This is a great example of using the DEAR MAN exercise to clearly ask for support in understanding where someone else is coming from. Try catching situations where you "read into" someone else's behavior, and see if you can ask them to use DEAR MAN to mitigate some of the confusion (and potential conflict).
Questions?
Our experts are here to help. Submit your questions to askanexpert@therapynotebooks.com and we'll do our best to answer them.
This article is not therapy or a replacement for therapy with a licensed professional. It is designed to provide information in regard to the subject matter covered. It is not engaged in rendering psychological, financial, legal, or other professional services. If expert assistance or counseling is needed, seek the services of a competent professional.